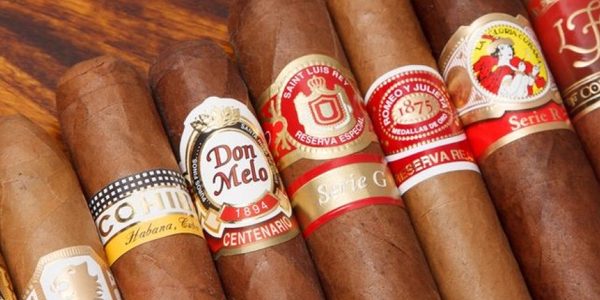 Dominican Cigars – Dominican Republic
Many will argue which is better Dominican cigars or Cuban cigars. Even though Cuban cigars may be more recognizable, Dominican Republic cigars are of the same superior quality.
Although Dominican cigars are not known to be as strong as Cuban cigars, they tend to be mild to medium with many different full flavored brands that are tasteful and with many unusually complex blends. They come in a wide variety of mixed aromas, colors and price points, in which many cannot resist a fine Dominican cigar.
The Dominican Republic is located in the eastern two-thirds of the Caribbean island of Hispaniola, with Haiti in the west. Just like Cuba, tobacco has been grown in the Dominican for thousands of years, having been cultivated and smoked by the island's indigenous Taino people.
It was the nationalization of the Cuban cigar industry and the US embargo that brought some of Cuba's finest cigar producers into exile in the Dominican Republic and other Latin American countries. Blessed with great climate and fertile soil, the Dominican Republic became the main base for factory owners and is now the top producer of premium cigars in the world.
The Dominican Republic has seen a huge growth in tobacco cultivation in the last 25 years, and several major cigar producers have been attracted to the region not only for its climate and soil but also because of the more recent stable economic and political situation. The Dominican Republic now exports over 350 million cigars each year.
The primary growing region is near the city of Santiago in the northern half of the country, which is known as the Yaque Valley and the Cibao River valley. The Dominican Republic's primary tobacco region offers a similar environment to that of Cuba that is great for growing premium tobacco.
The Dominican Republic is mostly known for its binder and fillers and unlike the Vuelta Abajo of Cuba, the Dominican Republic historically didn't grow wrapper tobacco due to the topography and the wind in the Dominican, which makes wrapper tobacco nearly impossible to grow. Most factories rely on imports for wrappers from Cameroon, Nicaragua, Brazil, Ecuador and Connecticut.
It wasn't until the early 1990s when Carlos Fuente Jr. of Arturo Fuente Cigars set out on a mission to successfully try to grow wrapper tobacco in the Dominican Republic. With millions invested and the use of shade tents, the first successful wrapper tobacco leaves turned out in 1992 and the first Dominican puro was created known as Opus X.
---
List of Dominican Cigar Brands
Adan y Eva
Arte Cubano
Arturo Fuente
Ashton
Augusto Reyes
AVO
Bolivar
Casa Blanca
Caonabo
Cigars NB
Cuaba
Chubbys

Cohiba "Red Dot"
Cojimar
Cuesta-Rey
Cuban Stock
Davidoff
Delicioso
Devil's Weed
Diamond Crown
Dominique
Don Antonio
Don Diego
Don Pierros

Don Rigo
Don Sebastian
Dunhill
El Credito
El Rico Habano
Emilio Reyes Collection
Exquisito
Fonseca Cigars
Fittipaldi
Garcia y Vega
Gurkha cigars

Garo Habano
Homage 1492
JM's Dominicans
J.R. Tobacco
Juan Clemente
La Aurora
La Caridad del Cobre
La Flor Dominicana
La Gloria Cubana
La Habanera
La Unica
Leon Jimenez

Los Libertadores
Macanudo
Marca Fina
Maximus
Montesino
Montecristo
Montecruz
Cigars NB
Nomi
Olor Del Cibao Cigars
Orange Label
Partagas
Paul Garmirian

Paul Vato Cigars
Pichon
Por Larranaga
Primo Del Rey
Quesada Cigars
Ramon Allones
Royal Jamaican
Sosa
Tatiana
Tenorio
The Griffin's –
Troya
Vegafina
---